The Windsor Hills Resort is a 24-hour secure gated resort community located less than 2 miles from Walt Disney World making it the closest resort community to the major theme parks. Over the past thirteen years Windsor Hills has firmly secured its position as the most popular private rental community in Orlando. Windsor Hills is the perfect retreat to escape the frenetic atmosphere of the parks. Easy to get to and only 20 minutes drive from Disney by car or bus, it provides the optimal base for a full on day at the parks then some well earned rest in the comfort of your own home away from home. Windsor Hills offers peace and tranquility and a luxurious accommodation option as an alternative to staying on-site at Disney. Alternatively the resort acts as the ideal golf holiday location, located next door to the excellent Mystic Dunes Golf Club and within easy reach of a wide array of golf courses in the Kissimmee area (across all ability levels and budgets) so there are plenty of options and a week or two of full on golf, playing a different course every day, is easily achieved with Windsor Hills as your base.
CLUBHOUSE, SWIMMING POOL AND WATER SLIDES
Windsor Hills offers all the amenities you would expect in a five-star resort complex, including a double Olympic size resort swimming pool...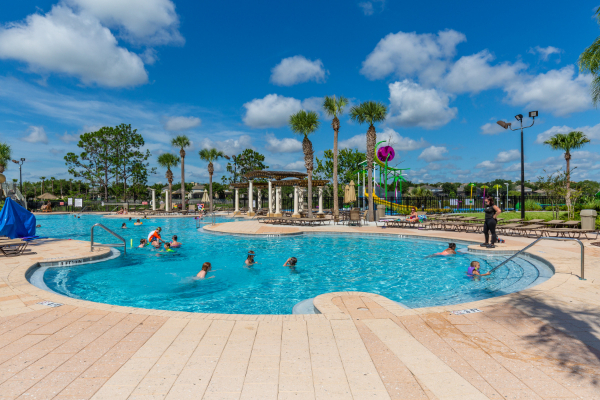 ...with a waterpark area (newly opened in late 2018)...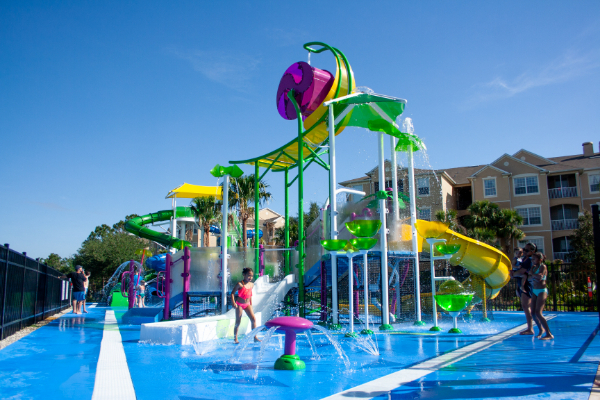 ...children's play area...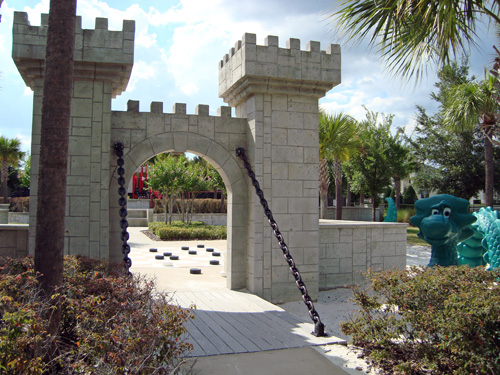 ...with miniature castle and slides...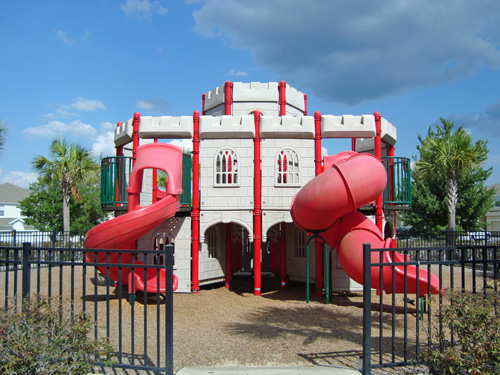 ...swings...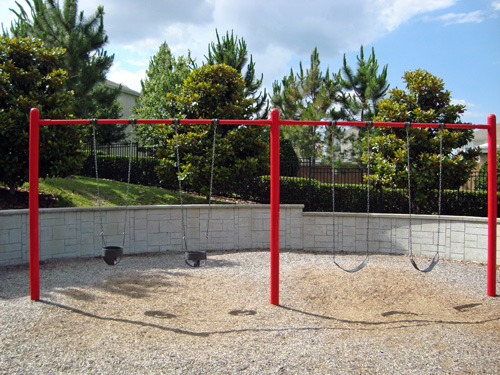 ...and a merry-go-round...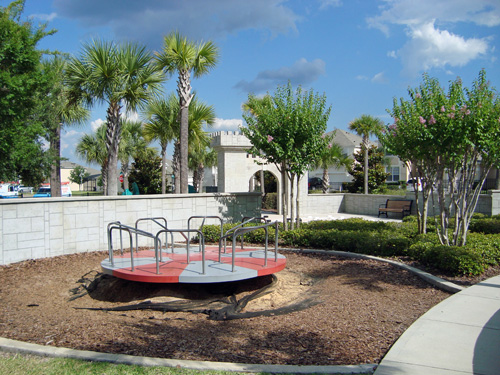 ...a golf putting green...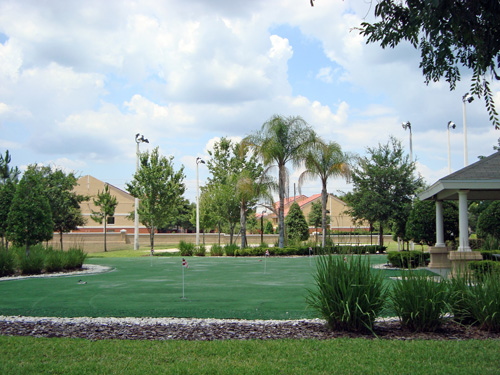 ...tennis and volleyball courts...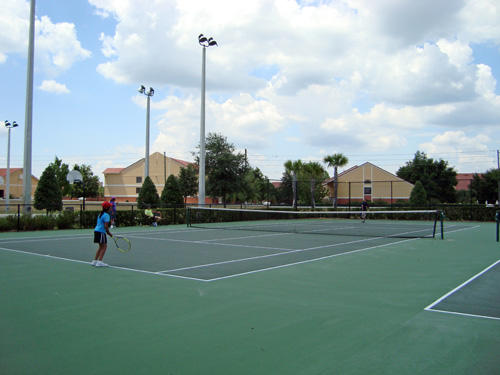 ...palm tree lined sun deck with luxurious lounge chairs...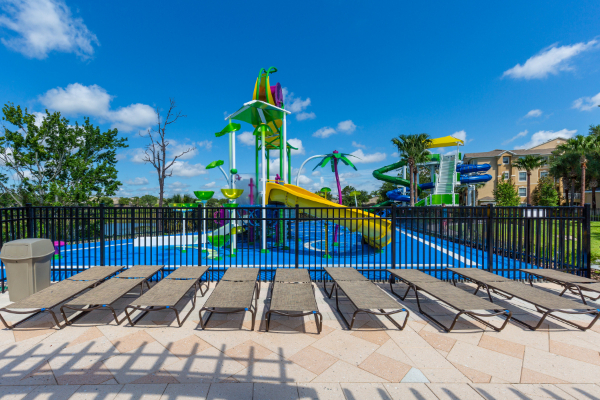 ...and a first class clubhouse over-looking the main resort pool area. The excellent resort clubhouse complex features a lagoon-style pool and waterpark, state-of-the-art fitness center...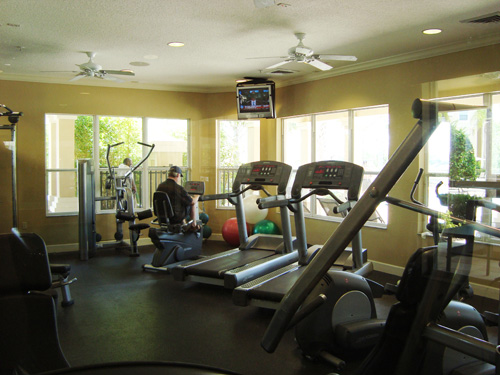 ...games room with billiards, table tennis and video arcade...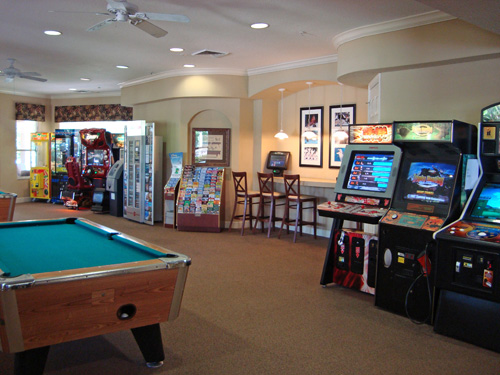 ...a grocery store...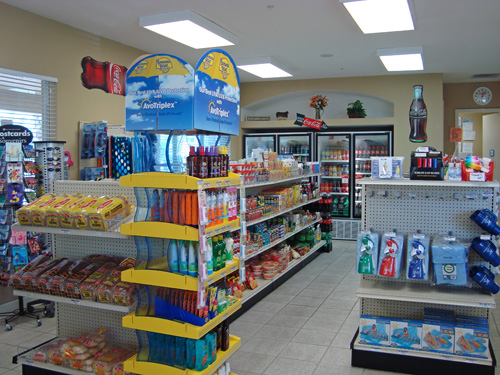 ...high-definition surround sound movie theatre, BBQ gazebo and a secure 24-hour gated and guarded entrance. Your family could enjoy an entire vacation just playing and relaxing in the amazing Windsor Hills resort pool area and clubhouse.
OPENING HOURS
Windsor Hills resort clubhouse and pool area is open all year round. The clubhouse is open daily from 8am to 10pm and is a good first point of contact for any general queries you might have during your stay. The pool is open daily from 8am to 10pm. The water slide and kids pool area is open 10am daily all year round and closes at 8pm in high season (April – September) and at 6pm in low season (October to March).
WHY WINDSOR HILLS?
Windsor Hills has a mature owner rentals model with a very strong home owners association who make it their mission to ensure guests to the resort have as pleasant and enjoyable an experience as possible so renting in Windsor Hills guarantees you peace of mind. Since development began in 2005 the resort has steadily increased in popularity and is now the first choice for most returning Orlando holidaymakers who want to stay off-site at Disney. Most homes in Windsor Hills are utilized solely for short term rentals and thus the resort retains a spirit and buzz more attune to a holiday complex than a residential community. The resort is relatively compact so long walks to the clubhouse and swimming pool are rare.
RESTAURANTS, SHOPS, GROCERY STORES NEARBY
A large Publix supermarket, Target, Walmart and a wide selection of well-known restaurant outlets can be found on 192. To get there by car simply exit the resort and turn left on to the 192 heading west (to get to Disney, you'll be turning right).
LOCATION CLOSEST TO DISNEY
Location Location Location – Windsor Hills is only 2 miles from Walt Disney World. Swim in or relax next to the amazing resort pool, visit one of the many nearby theme parks, play golf at one of the many Orlando championship courses, right next door is Mystic Dunes! (rated the second best course in the Orlando area). Only a 5 minute drive (through 2 sets of traffic lights!) to Disney. Note - there are on-site resorts (part of the WDW complex) on Disney property that are farther from some of the parks than Windsor Hills. You can visit the parks in the morning, come back for a dip in the pool and be back in the parks for dinner and fireworks with ease. Other Orlando attractions like Sea World, Universal and International Drive are less than 15 minutes away. For golfers, Mystic Dunes is right next door as well as the fantastic Disney courses and the championship courses at Reunion and Champions Gate are less than 10 minutes away. Amazing deals can be had on Golf Courses in Kissimmee and Windsor Hills is perfectly located to benefit you. Orlando International Airport is an easy 30 minute drive along the 417 from Windsor Hills. Orlando Sanford Airport is of similar distance.